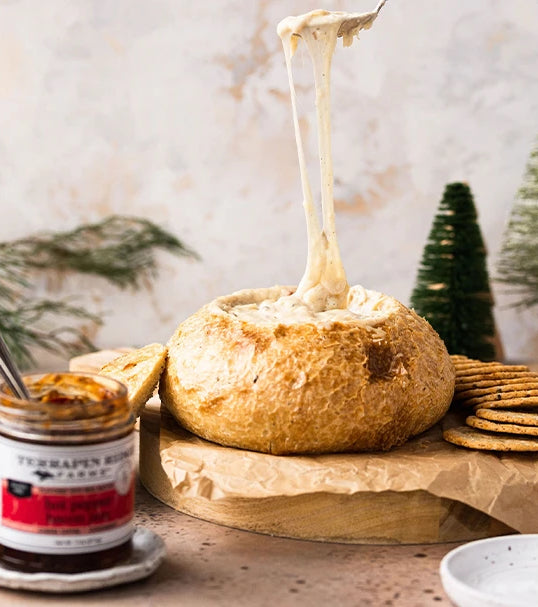 Get inspired with our Favorite Holiday Recipes!
🎵It's the most wonderful (food) time of the year 🎵
Cranberry Relish Brie Pizza

INGREDIENTS:

1 crescent roll can
1 apple
1/2 round wheel of Brie

 

DIRECTIONS:

Heat oven to 375°F (or 350°F for nonstick cookie sheet). Roll out crescent roll into a square and cook for 9 minutes. Remove from oven.
Spread ¾ jar to 1 whole jar of Cranberry Relish with Grand Marinier over the dough. Slice 1 apple very thin, place on top of relish. Cut ½ round of brie into 1 inch pieces and place on top. Reheat in oven for 4-5 minutes until cheese melts, serve!


 
Apple Maple Bacon Nachos

INGREDIENTS:

5 Apples honey crisp
4 oz blue cheese
1 cup walnut pieces
1/4 cup lemon juice

 

DIRECTIONS:

In a saute pan on medium heat, toss the walnuts quickly (to avoid burning) to toast the pieces until slightly brown. About one minute. Set walnuts aside. Cut apples in half, remove core, then slice into 1/8th inch slices. Place into a shallow bowl then add lemon juice to keep apples from turning brown. Remove apples from lemon juice and place on paper towel to remove excess moisture. Arrange on apple slices on a plate in a spiral pattern. Drizzle Apple Maple Bacon Jam over apples. Top with blue cheese and walnuts.
Creamy Pumpkin Butter Dip

INGREDIENTS:

1 block of cream cheese

Terrapin Ridge Farms Cinnamon Pretzels for dipping

Fruit, cake, cookies for dipping

 

DIRECTIONS:

Mix 1 block of cream cheese with about 1 jar of Pumpkin Butter. Make sure to save a bit to put on top. Once mixed, carefully dollop a few small spoonfuls of Pumpkin Butter on top of the dip. With a toothpick first draw out lines from the dollops, and then draw lines and swirls through those lines for a gorgeous presentation!

 
Apple Maple Bacon Mini Chicken and Waffles

INGREDIENTS:

1½ pounds boneless skinless chicken thighs (about 5 thighs)
1½ cups buttermilk
2 Tablespoons hot sauce, plus more for serving
Kosher salt and pepper
2 cups all-purpose flour
Canola or vegetable oil for frying
50 mini waffles, toasted
9 slices thick-cut cooked bacon (about ¾ pound), cut into thirds

 

DIRECTIONS:

Using a sharp knife, cut the chicken into 1½-inch pieces (a little larger than your mini waffle). You should have about 25 pieces of chicken. In a medium bowl, whisk the buttermilk with the hot sauce, 1 teaspoon of salt, and ½ teaspoon of pepper. Add the chicken, cover, and refrigerate for at least 1 hour and up to overnight. Set a cooling rack inside a rimmed baking sheet. In a large bowl, season the flour with salt and pepper. Working with a few pieces of chicken at a time, remove the chicken from the buttermilk soak, letting the excess drip back into the bowl. Dredge the chicken in the flour mixture, pressing so it adheres all over. Transfer the coated chicken to the prepared rack and let stand for 30 minutes (this will help the breading stick). In a large Dutch oven, heat 3 inches of oil to 350°F and set a cooling rack inside a separate rimmed baking sheet (or line with paper towels). Fry the chicken in batches, taking care not to overcrowd the pot, and allowing the oil to return to temperature before adding the next batch. Fry for 3 to 5 minutes, or until the chicken is cooked through and the crust is crispy and golden brown. Transfer to the prepared baking sheet to drain. In a large heatproof bowl, microwave the jam, plus 2 tablespoons of water for 1 to 2 minutes, or until it is smooth and pourable. Add the fried chicken and toss to coat. Assemble your fried chicken and waffles by layering a mini waffle, a small piece of the bacon, a piece of fried chicken and finishing with a mini waffle. Secure with a toothpick and transfer to a plate. Serve right away with hot sauce on the side.
Blueberry Bourbon Pecan Goat Cheese Log

INGREDIENTS: 

Goat Cheese
Crushed Pecans

 

DIRECTIONS:

Assembly only recipe: Remove goat cheese from the packaging.
Carefully spread the Blueberry Bourbon Pecan Jam around the goat cheese log. Generously sprinkle the crushed pecans on top of the jam. Gently press the jam and pecans into the goat cheese, creating a coating. Place in refrigerator for at least 2 hours. Serve with crackers, enjoy!
 
Cheesy Bacon Jam Bread Bowl

INGREDIENTS:

1 Sourdough Bread Bowl
8 oz Cream Cheese, cubed
1/2 C Sour Cream
1/2 C Shredded Gruyere Cheese
1/2 C Grated Asiago Cheese
1/3 C Caramelized Onions Salt and Pepper to taste
1 tsp Garlic Powder
1 tsp Onion Powder
Wellington Crackers for Dipping

 

DIRECTIONS:

In a medium saucepan combine the cream cheese, sour cream, gruyere, and asiago. Stir until all the cheeses are melted and well combined. Stir in the caramelized onions, garlic powder, onion powder, and salt and pepper. Pour the hot cheese dip into the bread bowl. Then dollop the bacon jam all around and swirl it throughout the dip. Serve warm with Wellington Crackers and extra Terrapin Ridge Farms Bacon Jam on the side.
Questions about this recipe?
Email Us