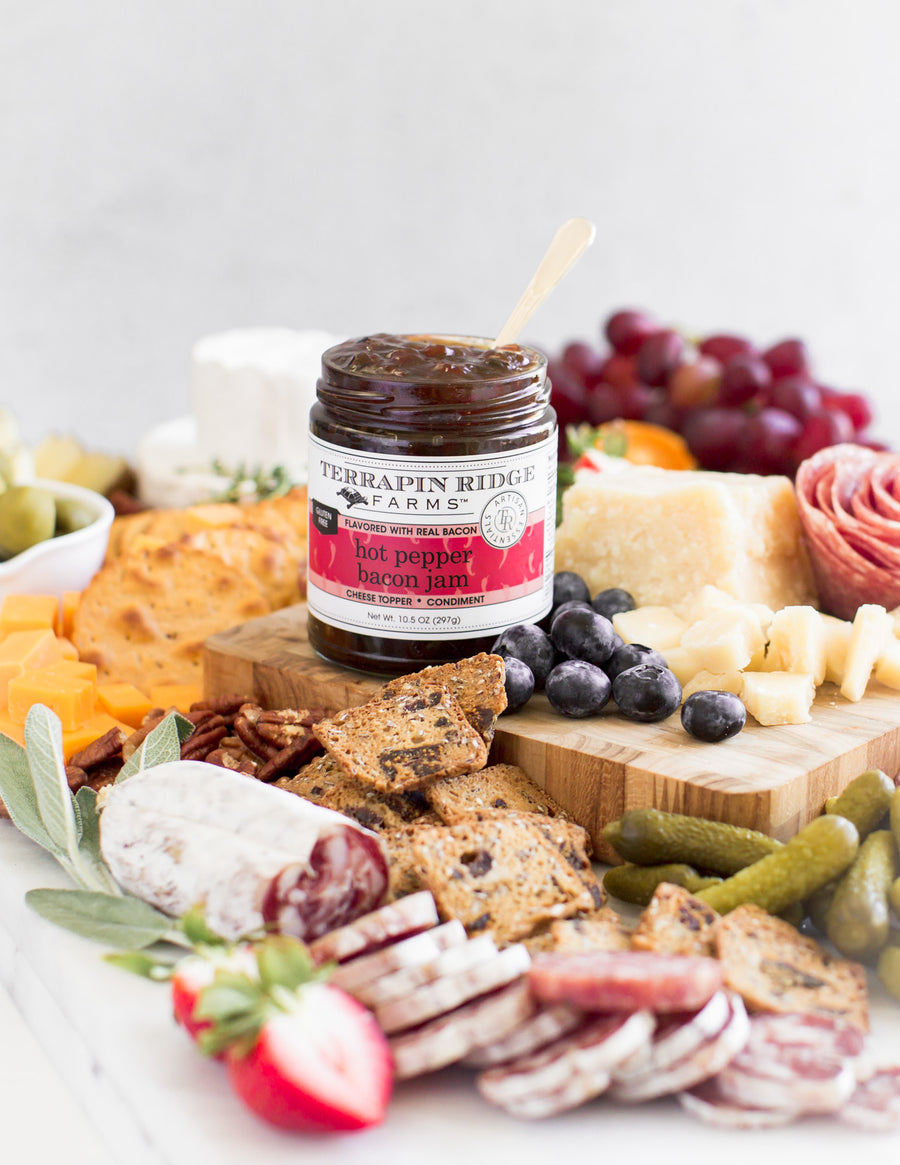 How to Pair Mustard with Charcuterie and Cheese | How to Build a Charcuterie Board
Enjoyed across cultures since the Middle Ages,
charcuterie boards are always a fan favorite at any gathering.
They are relatively easy, require no cooking and consist of everyone's favorite things: 
 

You may ask,

 

"So how do you build a charcuterie board?" 

Well, we did some tasty research at Terrapin Ridge Farms and came up with our favorite pairings to make your charcuterie board the absolute best!

 

We discovered every good charcuterie board has these essential pieces;

Cheese

Meat

Something Sweet

Textured Mustard

Something Pickled

Something Crunchy
A well balanced charcuterie board pairs sweet, salty, fatty and briny flavors together to create the perfect contrasting bite.
 

CHARCUTERIE TIPS:

•Try to have an even ratio of cheese to meats!

 

•When plating, fold prosciutto into florets for easy serving.

 

•Fan out or stack sausage-type meat to create textures.
Below are our suggestions for the best charcuterie board!
Cheese:

Creamy (Stilton Blue Cheese, Brie)
Soft and Spreadable (Goat Cheese)
Semi-Hard, Sharp (Manchego, Aged Cheddar)
Smoky (Gouda)

Air Dried Cured Meat:

Prosciutto (2 types of prosciutto is popular)
Pepperoni
Salami
Fatty Sausage (Soppressata)
Something Sweet: Sweet jams contrast the saltiness in the meats and cheeses

Terrapin Ridge Farms Blueberry Bourbon Pecan Jam (all cheese)
Terrapin Ridge Farms Hot Pepper Bacon Jam (sharp cheese and creamy cheese)
Terrapin Ridge Farms Apple and Horseradish Jam (all cheese)
Terrapin Ridge Farms Mango Habanero Jam (perfect with a mild, creamy cheese to reduce heat)

Textured Mustard:

 

Mustards go with every piece of the board

Terrapin Ridge Farms Pecan Honey Mustard
Terrapin Ridge Farms Dill Pickle Mustard
Terrapin Ridge Farms Smoky Onion Mustard

 

Something Crunchy/Something Pickled:

Crackers
Macadamia Nuts
Gherkin Pickles
Baguette
Marcona Almonds
Olives
Cornichons 
Fun tip:

 

Mix together Goat Cheese and Terrapin Ridge Farms Blueberry Bourbon Pecan Jam for the perfect chevre. This will take your charcuterie board to the next level!