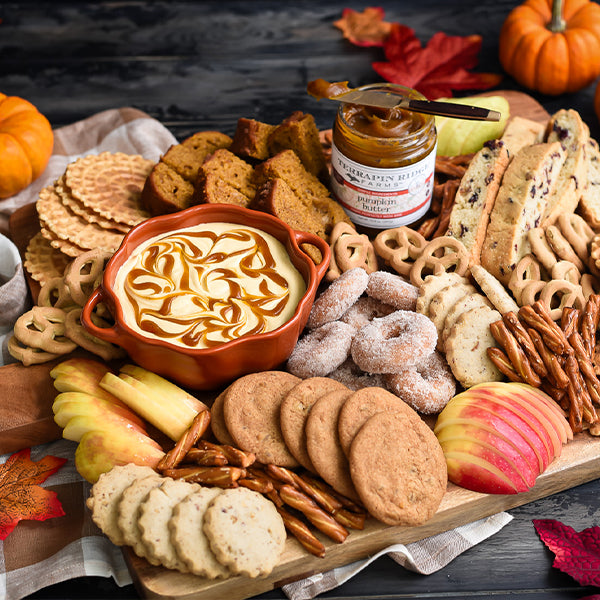 Discover 3 Ways to Use Our Delectable Pumpkin Butter!
Discover 3 Ways to Use Our Delectable Pumpkin Butter!
Creamy Pumpkin Butter Dip

INGREDIENTS:

• 1 block of cream cheese

• 1 jar of Terrapin Ridge Farms

Pumpkin Butter

• Terrapin Ridge Farms Cinnamon Pretzels for dipping

• Fruit, cake, cookies for dipping

DIRECTIONS:

Mix 1 block of cream cheese with about 1 jar of Pumpkin Butter. Make sure to save a bit to put on top. Once mixed, carefully dollop a few small spoonfuls of Pumpkin Butter on top of the dip. With a toothpick first draw out lines from the dollops, and then draw lines and swirls through those lines for a gorgeous presentation!

 
Pumpkin Crumb Bars

INGREDIENTS:

• 2 sticks very cold unsalted butter, cut into small cubes

• 1⁄2 cup light brown sugar

• 2 cups all purpose flour

• 1 teaspoon pumpkin pie spice

• 1⁄2 teaspoon salt

• 10.5 ounce jar Pumpkin Butter

• 1⁄4 cup sliced almonds- optional

• Confectioners sugar

• Non-Stick Baking spray with flour

DIRECTIONS:

Preheat oven to 350 degrees and grease a 9 x 9 baking pan then line with a piece parchment paper leaving an overhang and lightly grease. (This will help lift the cake out of the pan) To a food processor add butter, brown sugar, pumpkin pie spice, salt, and flour then pulse until dough starts to just come together. Measure out 1 3⁄4 cups of the dough and with floured fingers press the dough into the greased pan in an even layer. Then spread the pumpkin butter evenly over the dough. Use your fingers to break the dough apart into small crumbly pieces to cover the pumpkin butter layer making sure to go the edges of the pan. Bake for 45- 50 minutes or until the center is set and the top is golden. Cool on a wire rack. Once completely cool dust with confectioners sugar and cut into bars.
Air Fried Churro Bites

INGREDIENTS: 

• 1 package King's Hawaiian Rolls

• 3 tablespoons unsalted butter, melted

• 1 cup sugar

• 1 tablespoon ground cinnamon

• Cooking Spray

DIRECTIONS:

Preheat your air fryer to 350F.
Cut Hawaiian Rolls into quarters to create bite-sized pieces. Place quartered rolls into a mixing bowl. Drizzle 3 tablespoons of melted butter on rolls and gentle toss to coat them evenly.
Lightly grease your air fryer with the cooking spray.
Arrange the rolls into the air fryer in a single layer, making sure they all evenly cook.
Air Fry for about 6-7 minuets, making sure to shake the basket halfway through to ensure an even cook. While bites are cooking, combine 1 cup sugar and 1 tablespoon of cinnamon in a separate bowl and mix. As soon as the bites are done and still warm, evenly coat them in the cinnamon/sugar mixture. Drizzle Pumpkin Butter on top or use as a dipping sauce. Enjoy!

 
Questions about this recipe?
Email Us