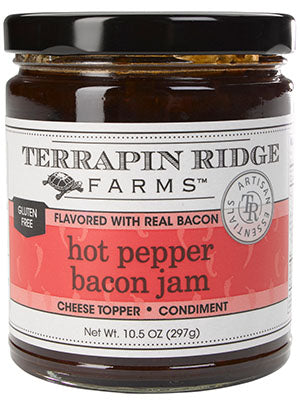 Spicy Bacon Jam Sensation
What is Hot Pepper Bacon Jam?
Spicy Bacon Jam is a mouthwatering condiment that combines the rich flavors of smoky bacon, spicy peppers, and sweet caramelized onions. It's a versatile spread that can be used in various dishes to add a delicious kick.
Why is Hot Pepper Bacon Jam So Popular?
There are several reasons why Spicy Bacon Jam has become a sensation among food enthusiasts:
Unique Flavor: The combination of savory bacon, spicy peppers, and sweet onions creates a flavor profile that is both bold and balanced.
Versatility: Spicy Bacon Jam can be used in numerous ways. Spread it on burgers, sandwiches, or crackers, or use it as a glaze for grilled meats.
Easy to Use: With Spicy Bacon Jam, you can instantly elevate the taste of any dish without spending hours in the kitchen. It's a convenient and delicious solution for busy individuals.
Handcrafted Quality: Our Spicy Bacon Jam is made with care, using only the finest ingredients. Each batch is crafted to perfection, ensuring a consistently exceptional product.
How to Enjoy How Pepper Bacon Jam
There are countless ways to savor the delectable flavors of Spicy Bacon Jam:
Breakfast Delight: Spread Spicy Bacon Jam on toast or English muffins for a zesty twist to your morning routine.
Gourmet Burgers: Take your burgers to the next level by slathering Spicy Bacon Jam on the buns. The combination of juicy beef and tangy jam is a match made in heaven.
Appetizer Sensation: Create a show-stopping appetizer by topping crackers or crostini with cream cheese and a dollop of Spicy Bacon Jam.
Grilled Goodness: Use Spicy Bacon Jam as a glaze for grilled chicken, pork, or shrimp. The smoky, spicy flavors will take your barbecue game to new heights.
Why Choose Hot Pepper Bacon Jam?
When it comes to Spicy Bacon Jam, our Hot Pepper Bacon Jam stands out from the rest. Here's why:
Extra Kick: Our Hot Pepper Bacon Jam is infused with fiery peppers that add an extra level of heat and complexity to the flavor.
Premium Ingredients: We source the finest quality bacon, peppers, and onions to ensure a product that is bursting with flavor.
Small-Batch Craftsmanship: Each jar of Hot Pepper Bacon Jam is carefully handcrafted in small batches to guarantee the utmost attention to detail and quality.
Experience the Hot Pepper Bacon Jam Difference
Ready to elevate your culinary creations? Try our Hot Pepper Bacon Jam today and discover a whole new world of flavor. Don't miss out on this sensational condiment!
Get your jar of Hot Pepper Bacon Jam now!
Questions about this recipe?
Email Us