8 BARBEQUE RECIPES YOU MUST TRY!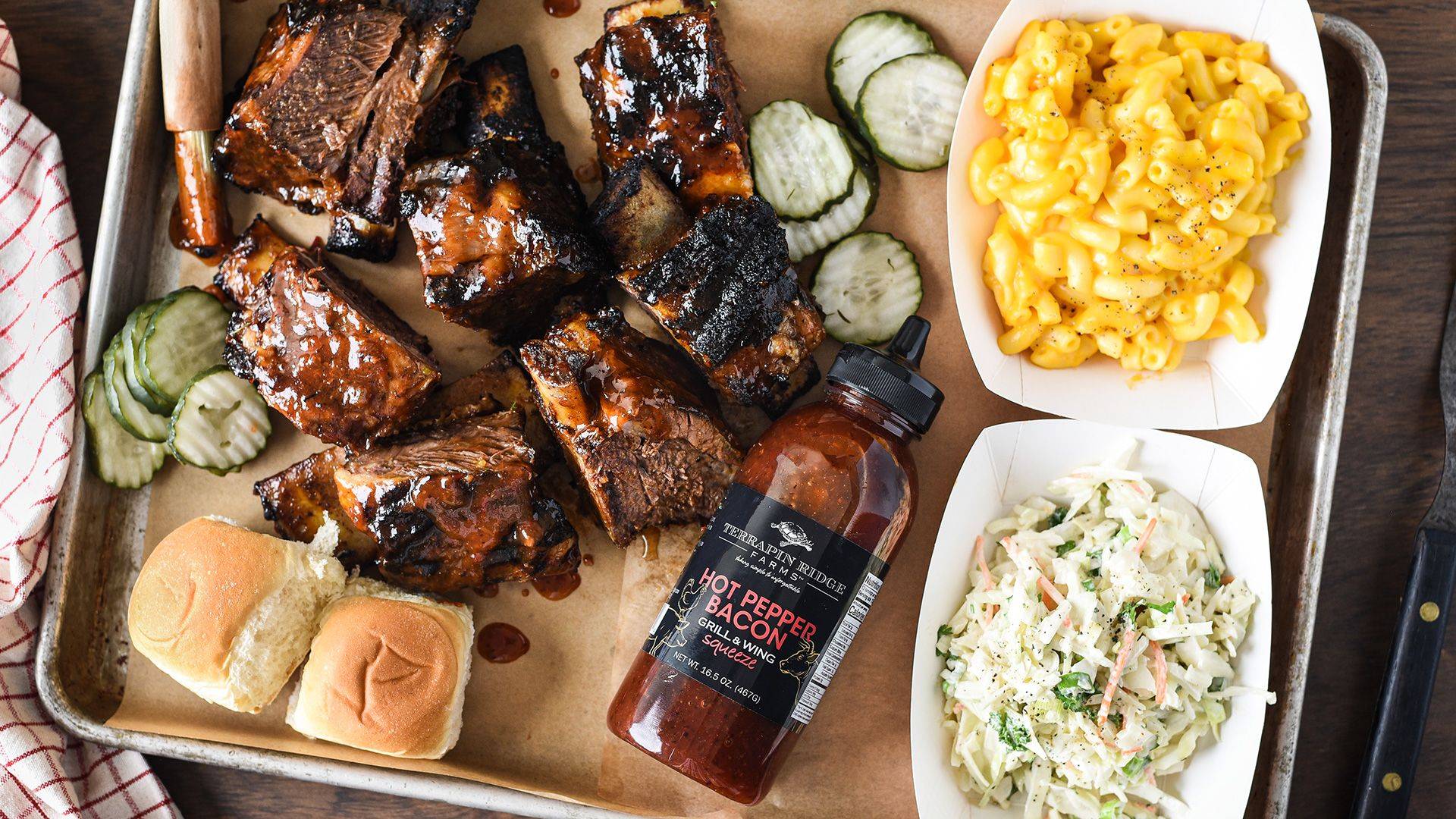 HOT PEPPER BACON GLAZED SHORT RIBS
I
ngredients:
Terrapin Ridge Farms' Hot Pepper Bacon Grill & Wing Squeeze
6 pounds bone-in, English-cut short ribs,sectioned into 2-to 3-rib pieces and excess fat remove
3⁄4 teaspoon cayenne pepper
Directions:
1) In a small bowl, mix the spices with 1 1⁄2 tablespoons of salt and 1 teaspoon of pepper. Generously season the ribs all over with spice rub. Let sit at room temperature for 1 hour.
2) Preheat the oven to 300°F. Transfer the ribs to a 9-by-13-inch baking dish meat side up—they should fit snugly. Cover tightly with aluminum foil and bake until tender but not falling apart, 2 to 3 hours. Keep covered with foil and let rest for at least 1 hour. At this point, the ribs can be refrigerated if you're making them in advance.
3) Heat a grill to HIGH (450°F) and oil the grate.
4) Grill the short ribs, basting with the Hot Pepper Bacon Jam Grill & Wing Squeeze and turning frequently, until lacquered and charred in places and heated through, 7 to 10 minutes. Transfer to a cutting board and let rest for at least 10 minutes. Cut between the ribs to separate. Transfer to a platter and serve with any remaining sauce, mac-and-cheese, coleslaw, rolls, and pickles, if desired.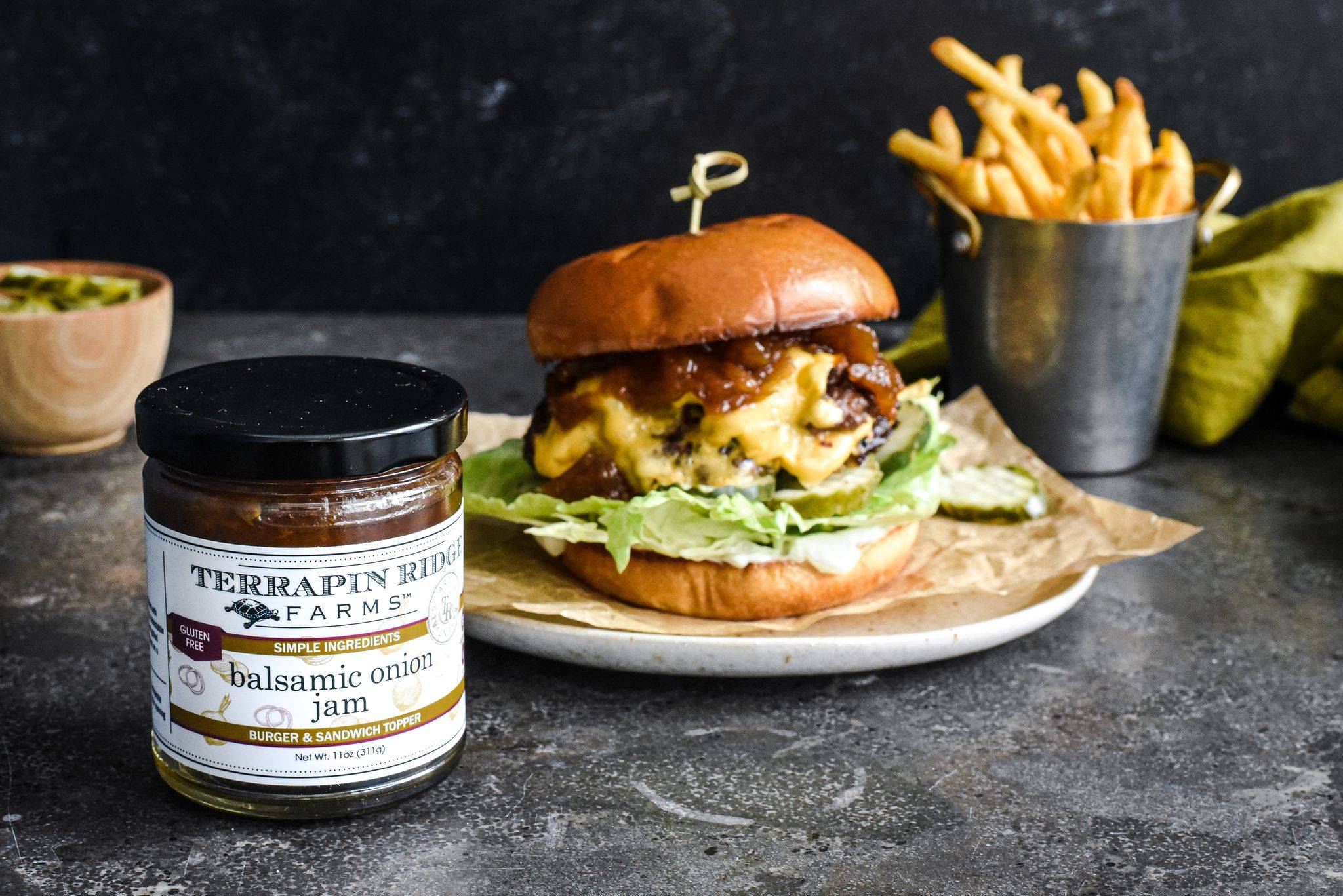 DOUBLE SMASH BURGER WITH BALSAMIC ONION JAM
Ingredients:
1/2 cup Terrapin Ridge Farms' Balsamic Onion Jam

4 squishy buns (preferably potato or brioche)—split, buttered, and toasted

1/3 cup mayonnaise or Terrapin Ridge Farms' Everything Aioli

Iceberg lettuce and dill pickle chips, for topping

11⁄2 pounds ground beef (preferably 75/25), divided into eight 3-ounce balls

Kosher salt and pepper

8 slices American cheese, or choice of cheese
Directions:
1) These burgers cook quickly, so make sure your buns are toasted and ready to go. Smear some mayo on each toasted bottom bun and top with iceberg lettuce and a few pickle chips. Set aside.
2) Preheat a large dry stainless steel skillet or flat top over high heat for 2 minutes.
3) Working in batches, place two balls of ground beef in the skillet and press firmly with the bottom of a saucepan or a large heavy spatula until they are very thin and slightly wider than your bun. Season generously with salt and pepper. Be careful not to crowd the pan.
4) Cook the patties until they are well browned, about 1 minute. Using a bench scraper or a heavy metal spatula, carefully scrape the patties from the pan, making sure to get all of the browned bits.
5) Flip and immediately top each patty with a slice of cheese and stack one patty on top of the other. Transfer to a large plate and cover loosely with foil. Keep warm while you prepare the other burgers.
6) Arrange the smashed burgers on top of the prepared buns. Top each burger with a hefty spoonful of Balsamic Onion Jam and close your burgers
.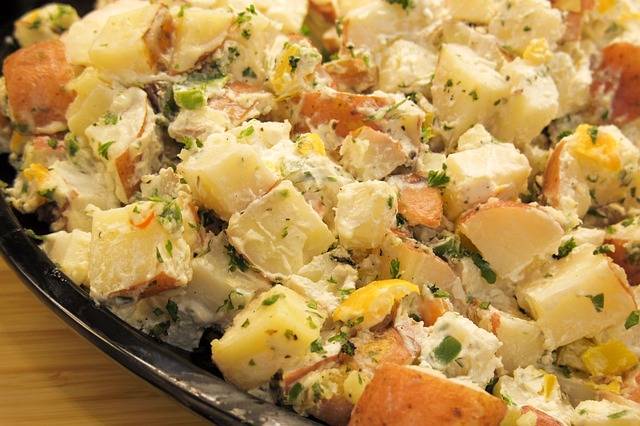 GARLIC AND DILL EASY POTATO SALAD
Ingredients:
3 lb's gold potatoes with skin, cut in large cubes

1 jar Terrapin Ridge Farms Dill Pickle Mustard

1 white onion, chopped

2 cups mayo (more or less, depending on how you like it)

S&P to taste.
Directions:
1) Put potatoes into a large pot of water and cook until tender, about 20-30 minutes. Drain and let cool.
2) Dice the onion into small pieces. Stir together onions, mayonaise and Dill Pickle Mustard.
3) Peel potatoes (optional, we like skin on ours sometimes) and dice into 1 inch chunks.
4) Fold potatoes into mayonaise, onion, and Dill Pickle Mustard mixture.
5) Add salt and pepper to taste. Enjoy!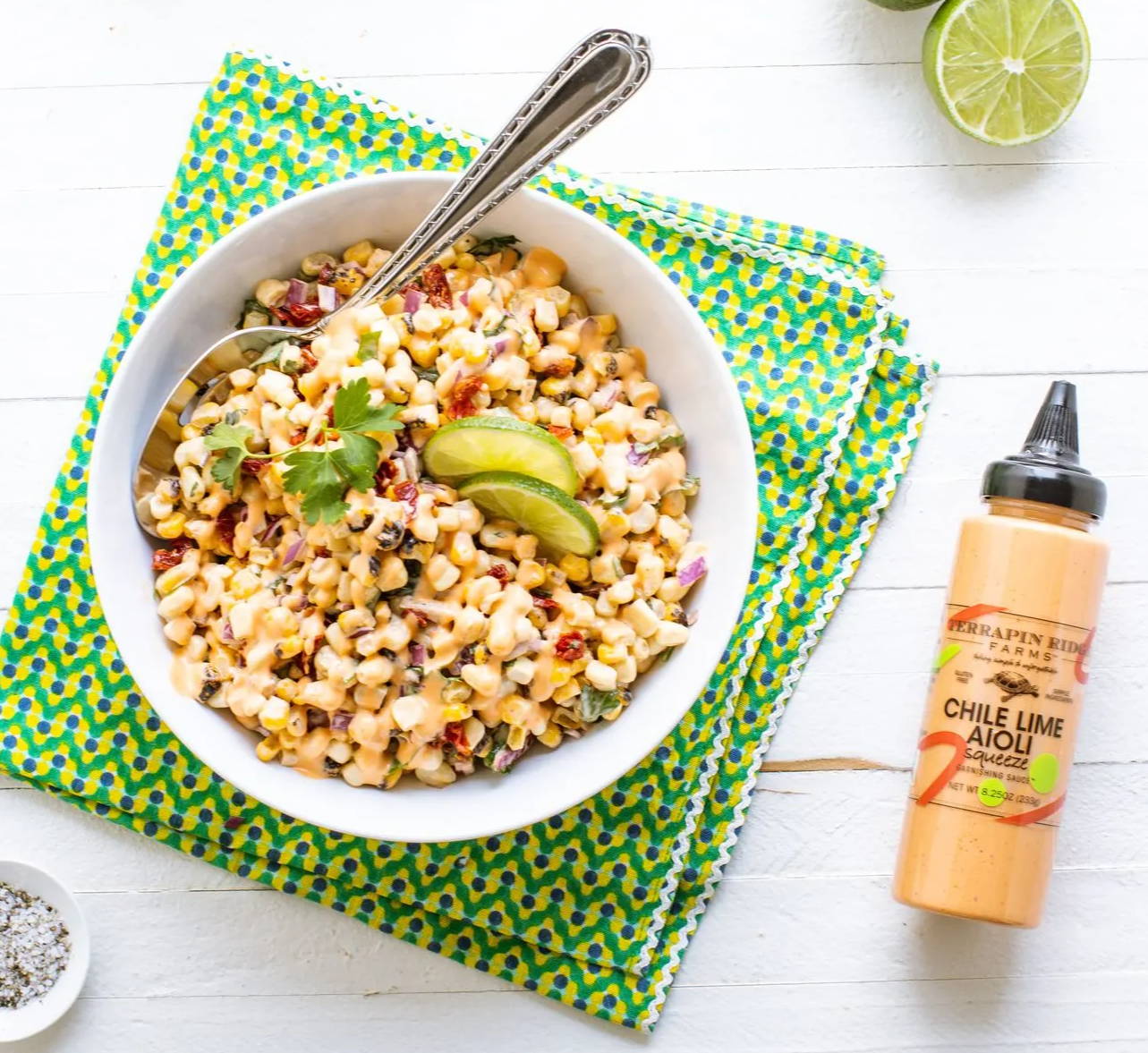 CHILE LIME AIOLI CORN SALAD
Ingredients:
8 ears fresh corn, cooked and cooled (or frozen defrosted kernels1/4 cup)

Chopped parsley

1/2 cup Chile Lime Aioli

3 tbsp finely chopped sundried tomatoes

Grated zest and juice of 1/2 lime

1/2 tsp salt

1/4 tsp cayenne pepper (optional)
Directions:
1) Cut kernels off the cobs (you should get about 4 cups) and place them into a large bowl. Throw in the rest of the ingredients and toss to combine. Serve immediately or place in the fridge to allow flavors to meld.
2) This salad will keep well for 2 to 3 days in the refrigerator.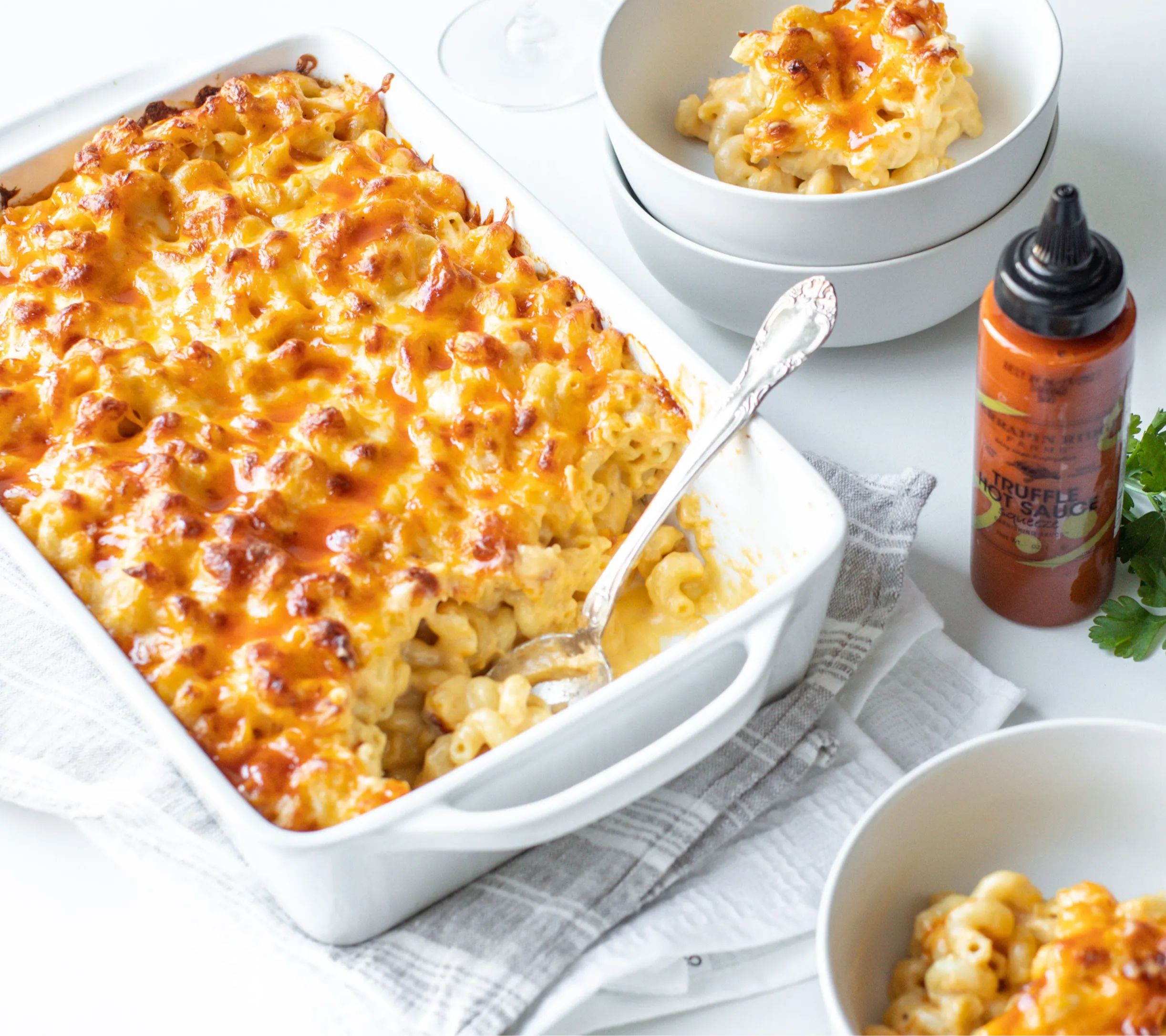 HOT TRUFFLE MAC AND CHEESE
Ingredients:
4 cup dried elbow macaroni or cavatappi pasta

1 egg

1/4 cup salted butter

1/4 cup all-purpose flour

1 1/2 cup whole milk

2 teaspoons dry mustard

1-pound grated cheese: cheddar, Colby jack, Fontina and Gruyere are all good choices

1/2 teaspoon salt, plus more to taste

1/2 teaspoon ground black pepper
Directions:
1
) Cook the macaroni until slightly al dente, it should be slightly firm. Drain.
2) In a small bowl, beat the egg.
3) In a large pot, melt the butter and sprinkle in the flour. Whisk together over medium low heat, cooking the roux for five minutes.
4) Take 1/4 cup of the sauce and slowly pour it into the beaten egg, whisking constantly to avoid cooking the egg. Whisk together until smooth. Pour the egg mixture into the sauce, whisking constantly. Stir until smooth add the cheese and stir to melt.
5) Whisking constantly, pour in the milk, add the mustard and truffle hot sauce. Whisk until smooth. Cook for five minutes until very thick. Reduce the heat to low. Add the salt and pepper. Pour in the drained cooked macaroni and stir to combine.
6) Serve immediately or pour into a buttered baking dish top with extra cheese. Bake at 350° for 20 to 25 minutes, or until bubbly and golden on top. Top with drizzles of Terrapin Ridge Farms Truffle Hot Sauce. Enjoy!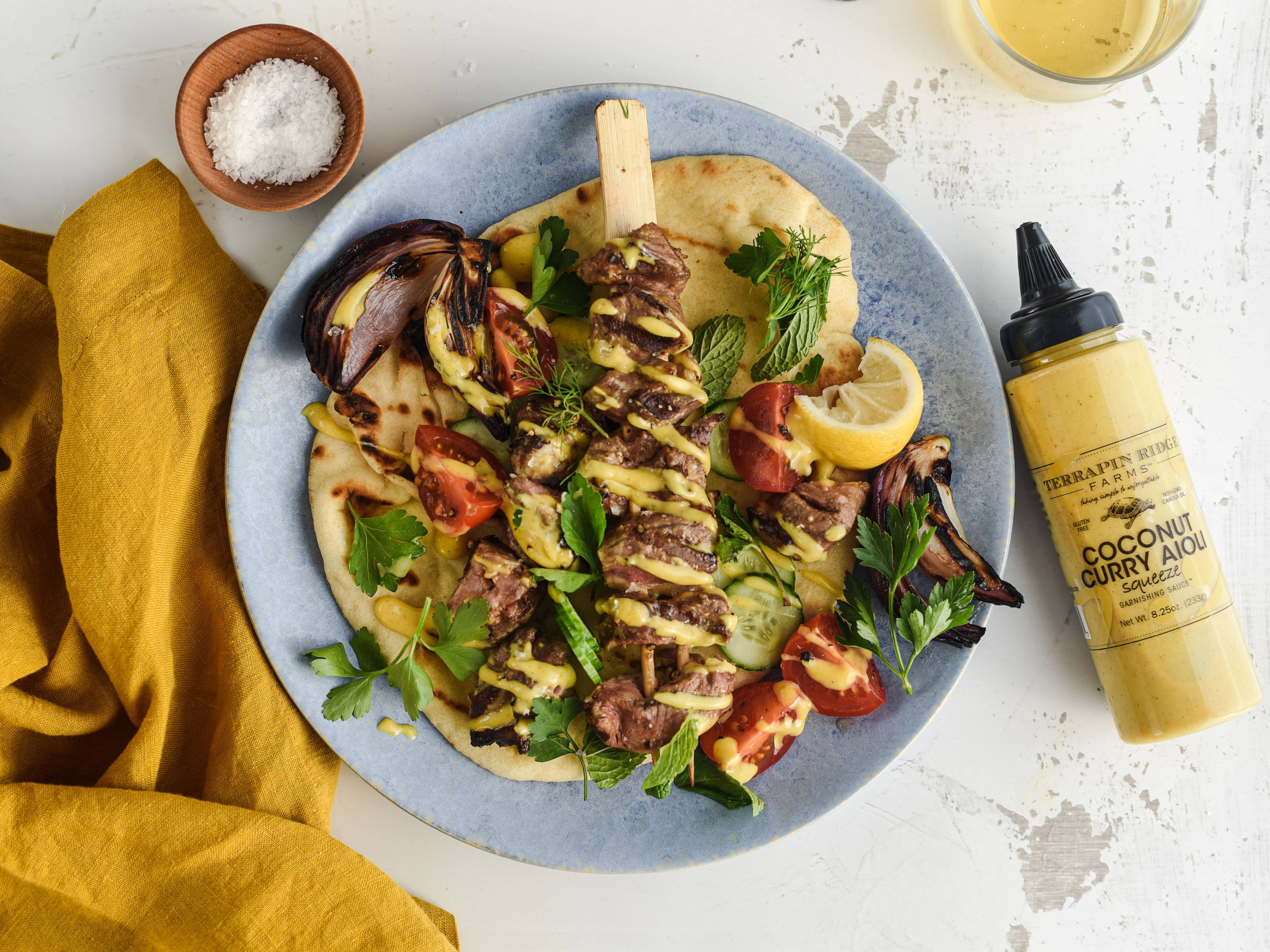 GRILLED LAMB KEBABS WITH COCONUT CURRY AIOLI
Ingredients:
1½ boneless lamb shoulder, cut into 1-inch pieces

⅓ cup Terrapin Ridge Farms Coconut Curry Aioli, plus more for drizzling

Kosher salt and pepper

Canola oil for greasing

1 large red onion cut into 8 wedges through the root

4 naan or pita

Sliced tomatoes, Persian cucumber, and tender green herb, (mint, dill, or parsley) for serving
Directions:
1) In a large resealable plastic bag, coat the lamb with the ⅓ cup of aioli. Season with salt and pepper. Refrigerate for at least 2 hours and up to overnight. Let sit at room temperature for 30 minutes before cooking.
2) If using wooden skewers, submerge them in water in a large baking dish. Let soak for at least 1 hour; drain. Thread the lamb onto 6 to 8 skewers, giving your meat a little space so it browns evenly.
3) Preheat a grill to medium-high (350-400°F), indirect cooking (for a charcoal grill, bank coals on one side of grill; for a gas grill, leave one or two burners off) and oil the grate. Grill the skewers over direct heat, turning every minute or so, until browned and beginning to char in spots, about 4 minutes. Move to the cooler side of the grill and continue to grill until the lamb is medium-rare within, about 4 minutes more. Meanwhile, grill the red onion, turning occasionally, until tender and nicely charred, about 10minutes.Transfer the lamb skewers and red onion to a platter and cover with foil. Grill the naan until beginning to char and is soft and pliable, 2 to 3 minutes.
4) Arrange the skewers, naan, and red onion on a large platter. Drizzle the lamb with more Coconut Curry Aioli.
5) Add sliced tomato, Persian cucumber, herbs, and lemon wedges to the platter. Season the tomatoes and cucumbers with salt and pepper. Serve right away, letting people assemble their own wraps.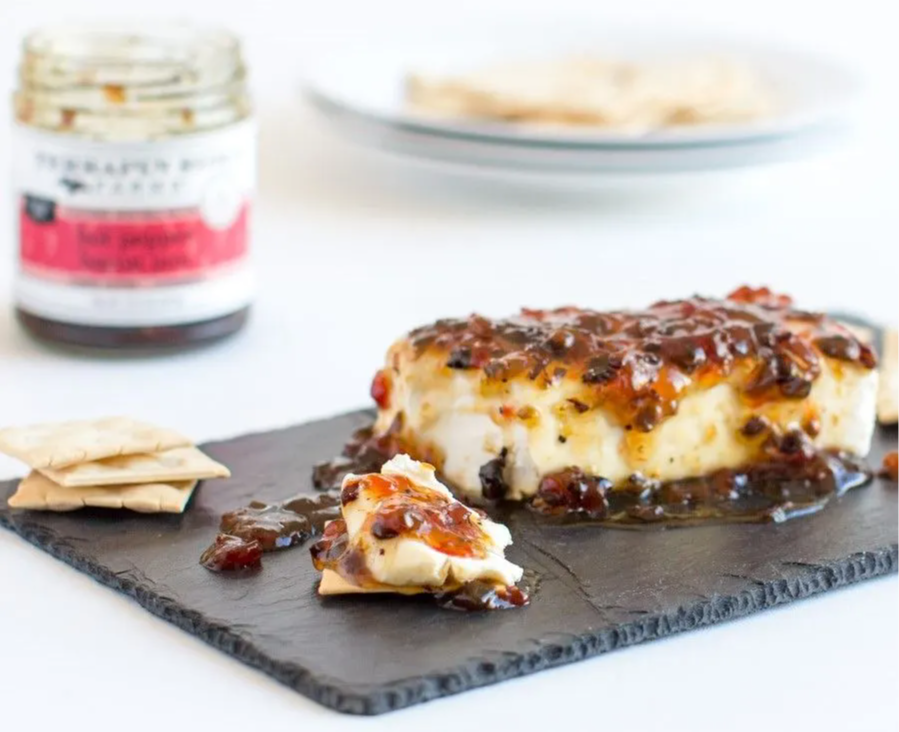 SMOKED CREAM CHEESE WITH HOT PEPPER BACON JAM
Ingredients:
1 brick Cream Cheese

Grill Seasoning
Directions:
1) Set smoker or grill to 225 degrees F.
2) Open up the cream cheese and set on a greased grill safe pan or cast iron skillet.
3) Season the cream cheese lightly with your favorite grilling seasoning.
4) Let the cream cheese smoke for about 2 hours.
5) Once the cream cheee is finished smoking, remove from the smoker or grill and let cool for 10 minutes.
6) Once finished cooling, Pour on Hot Pepper Bacon Jam. Serve with crackers and enjoy!