20% off for Tailgate Season! Use code TAILGATE20
Terrapin Ridge Farm's collection of the recipes they are obsessed with!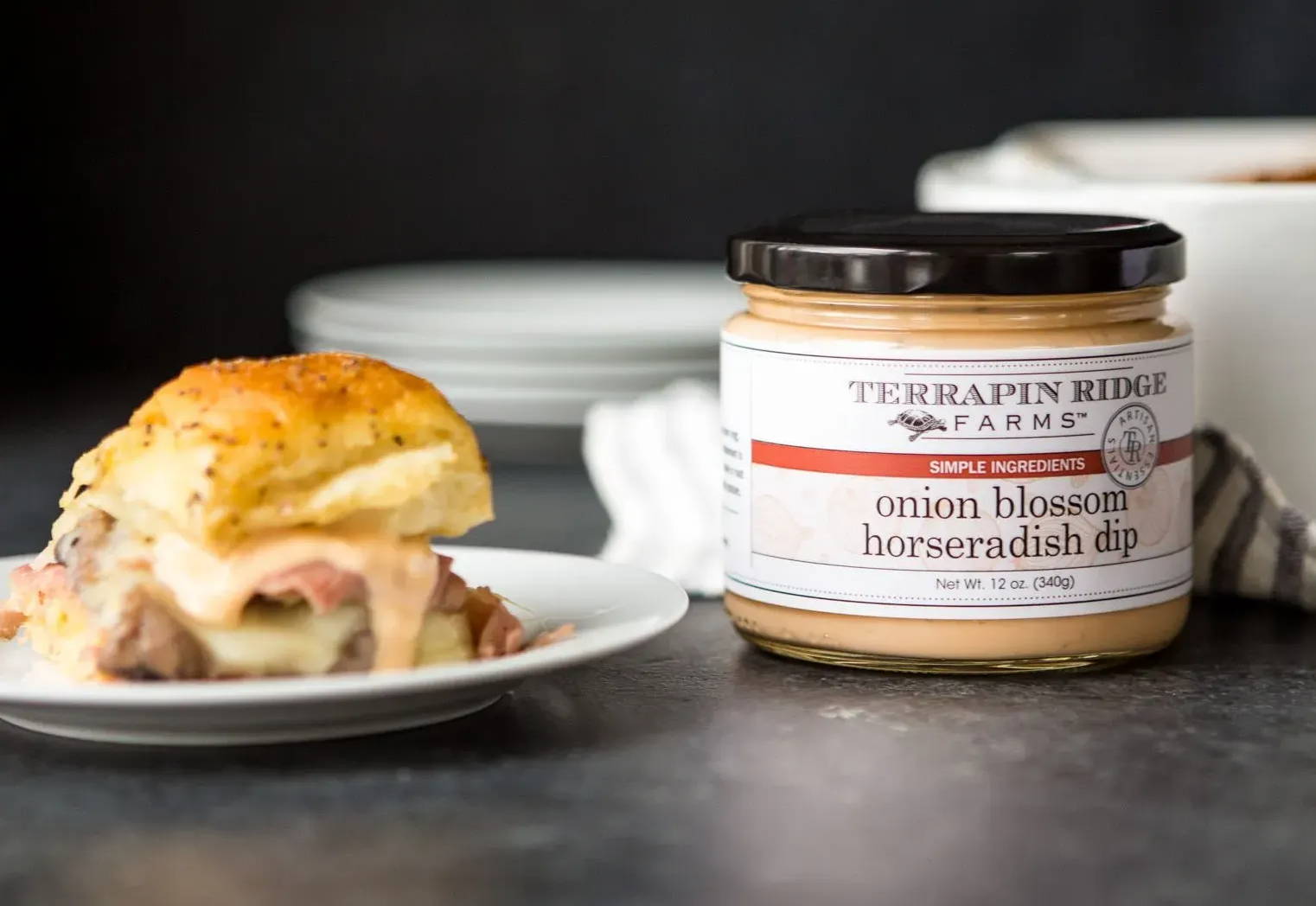 Cheesy Onion Blossom Roast Beef Sliders
Ingredients:
1 package (12 rolls) Hawaiian sweet rolls

8 ounces sliced sharp provolone

3/4 pounds roast beef as rare as possible

1 cup jarred deli-sliced pepperoncini 
            tablespoons unsalted butter, melted
1 and 1/2 teaspoons poppy seeds

1/2 teaspoon minced garlic
Directions:
Preheat the oven to 350 °F. Butter or lightly grease the bottom of a 13-by-9-inch baking dish. Without separating into individual rolls, slice the top half of the bread off the bottom. Spread 1-2 Tbs Terrapin Ridge Farms Onion Blossom Horseradish Dip on open face of the bottom half of the bread. Place the bottom portion of the rolls in the prepared baking dish. Layer half of the cheese on top of the bottom rolls. Next layer all the roast beef on top. Add the pepperoncini on top. Finally, layer the last half of the cheese on top. Place the top section of rolls on top of everything. In a small bowl, combine the completely melted and slightly cooled butter, poppy seeds, minced garlic. Season to taste if desired. Whisk to combine. Using a pastry brush, liberally brush the butter mixture over the tops and sides of the rolls until well coated.Some of the butter mixture will pool at the bottom of the pan which is fine -- this will help season the bottom section of rolls! Bake, cvered with foil, for 20 minutes. Remove foil and bake for another 3-5 minutes or until cheese is gooey/melty and tops of rolls are slightly crispy (watch carefully). Remove, cut apart with a serrated knife, and serve while hot!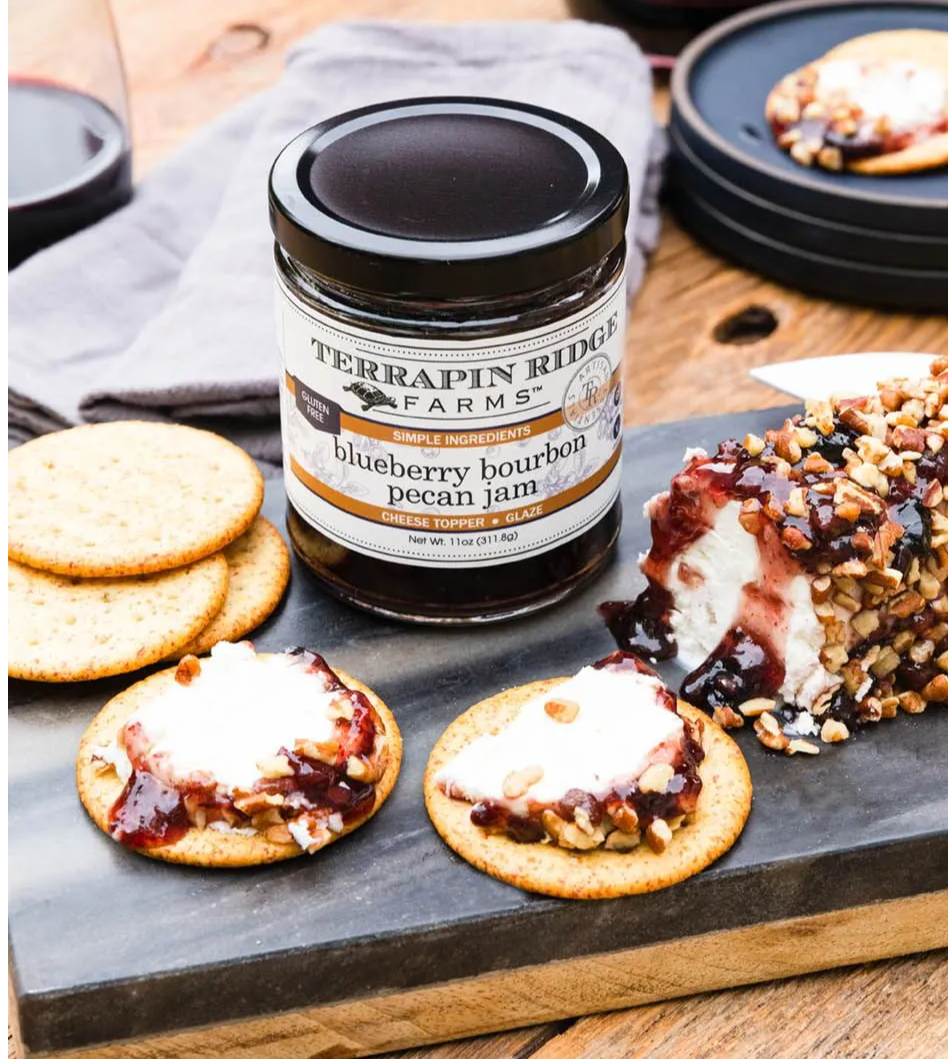 Blueberry Bourbon Pecan Goat Cheese Log
Ingredients:
Goat Cheese Blueberry Bourbon Pecan Jam
Directions:
Remove goat cheese from the packaging. Carefully spread the Blueberry Bourbon Pecan Jam around the goat cheese and pack on the crushed pecans on top of the jam. Gently press the jam and pecans into the goat cheese, created a coating. Place in refrigerator for at least 2 hours. Serve with crackers, enjoy!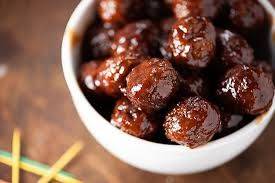 Blackberry Chipotle Meatball Bites
Ingredients:
Approx 1 jar Terrapin Ridge Farms Blackberry Chipotle Sauce

1 (28oz) bag fully cooked, frozen meatballs
Directions:
Place frozen meatballs in a 3-4 quart crockpot and pour our Raspberry Chipotle Sauce over meatballs. Stir so all meatballs are coated evenly. Cook on LOW for 4 hours, stirring occasionally. Serve in crockpot with toothpicks handy or on a dish with toothpicks placed in each meatball.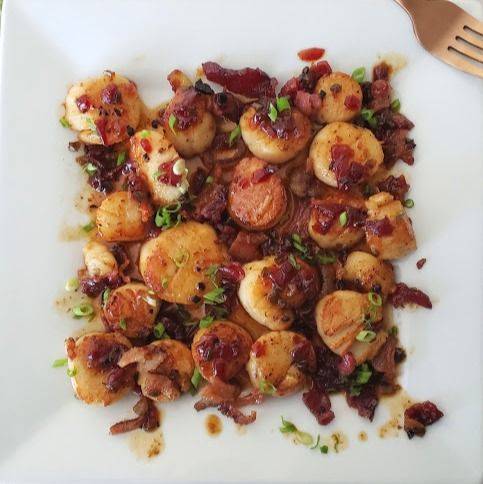 Bacon Wrapped Scallops w Hot Pepper Bacon Jam
Ingredients:
8 lg sea scallops

4 slices maple bacon (cut in half)

8 toothpicks

8 tsp Terrapin Ridge Farms Hot Pepper Bacon Jam

4 diagonally sliced crostinis

Garlic butter Parmesan Cheese
Directions:
Wrap the scallops tightly in a piece of bacon and use toothpick to stabilize. Spread garlic butter on crostinis. Bake scallops and garlic crostinis in separate baking dishes (crostinis can go straight on oven racks or grill grates) at 400 deg until desired crispness of bacon and until the bread is golden brown then top with parmesan cheese until melted. Place 1 tsp Hot Pepper Bacon Jam under each scallop parcel. Green onions for garnish, eat and enjoy! ***this recipe works amazing in the air fryer***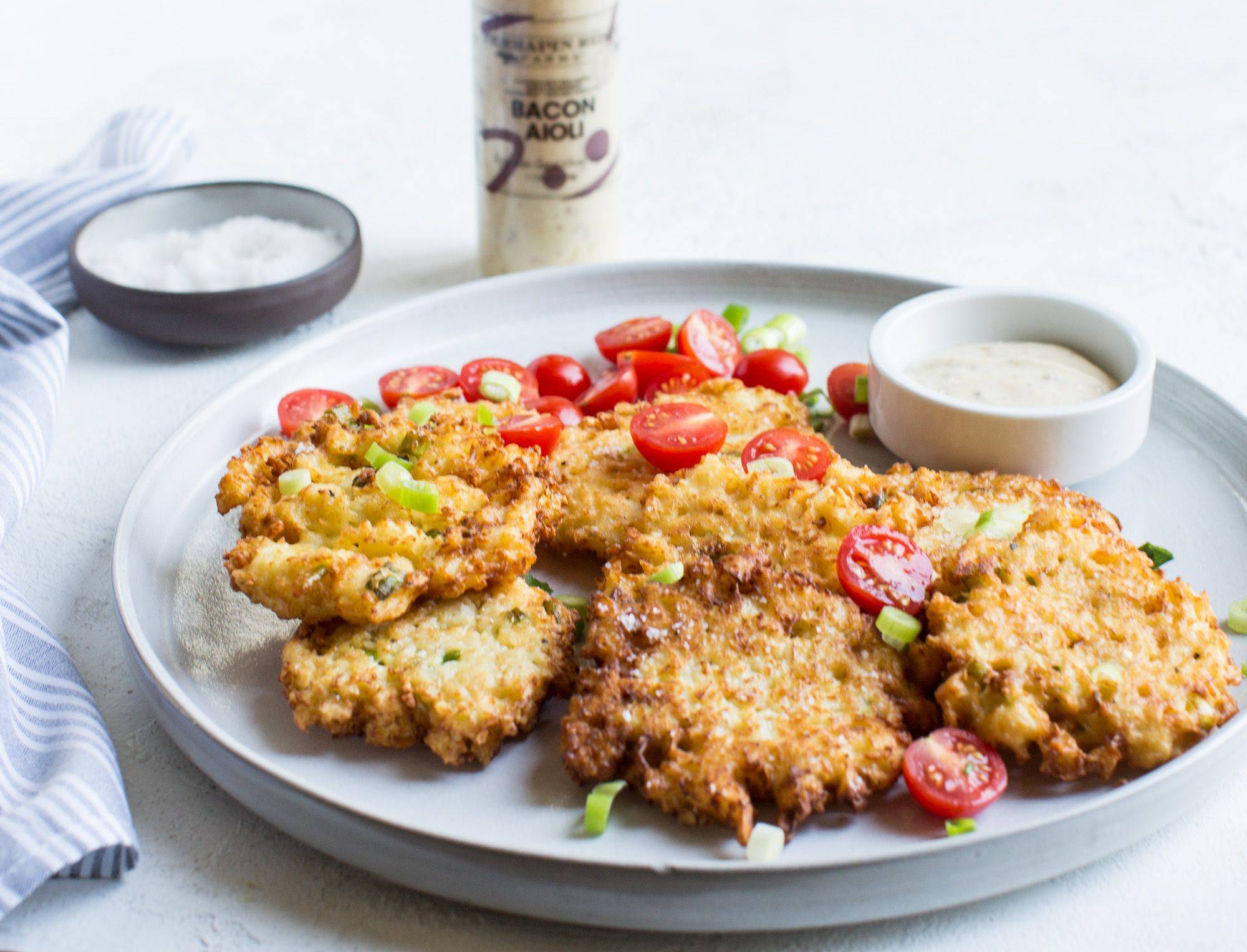 Bacon Aioli Cauliflower Fritters
Ingredients:
1 large head cauliflower, cut into florets or four cups frozen cauliflower
1/2 cup whole wheat or all-purpose flour (almond flour works as well)
2 large eggs, lightly beaten
3 Tablespoons minced scallions, plus more for garnishing
Olive oil or Vegetable oil to fry
Terrapin Ridge Farms Bacon Aioli Squeeze, for serving
Directions:
Bring a large pot of salted water to a boil; add the cauliflower and cook it just until fork tender, 3 to 5 minutes. Transfer it to a cutting board and using a sharp knife, cut it into very small pieces (the cauliflower pieces should be the size of peas or smaller) Frozen chopped cauliflower will also work, simply microwave until warm 4-6 minutes. Measure out 4 cups of the chopped cauliflower. Combine the cauliflower, bacon aioli, flour, eggs, milk, garlic, scallions, 1/2 teaspoon salt and 1/4 teaspoon pepper in a bowl and stir until well combined. Line a plate with paper towels. Heat a nonstick skillet over medium-low heat and lightly coat it with olive oil. Scoop out 2- to 3-tablespoon mounds of the cauliflower mixture into the pan, flattening the mounds slightly with a spatula and spacing them at least 1 inch apart. The fritters can also be fried in 1 Inch on vegetable oil, follow the same time instructions. Cook the fritters for 2 to 3 minutes, flip them once and cook them an additional 1 to 2 minutes until they're golden brown and cooked through. Transfer the fritters to the paper towel-lined plate. Serve them warm topped with Terrapin Ridge Farms Bacon Aioli and a sprinkle of chive. Enjoy!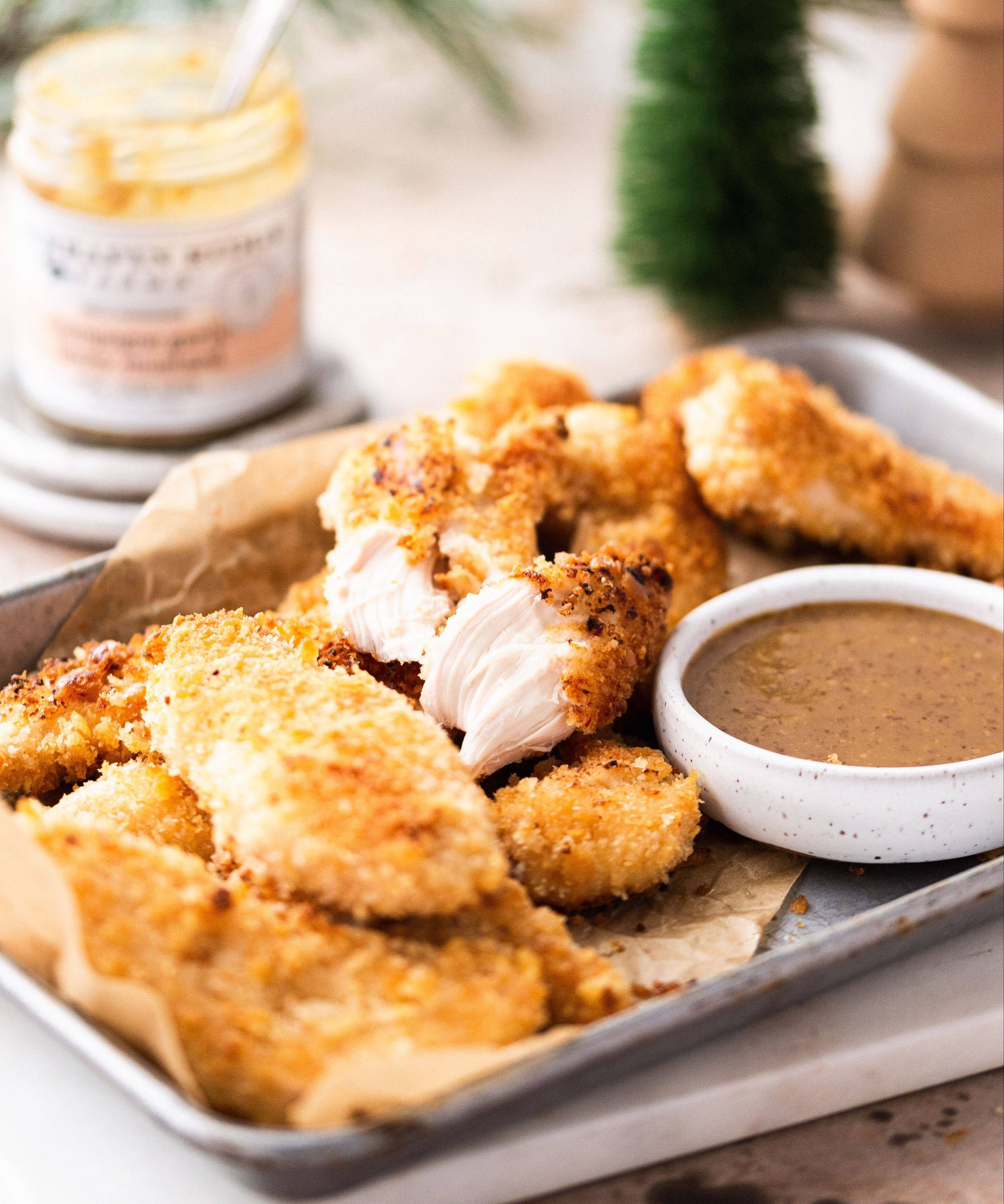 Cracker Crusted Chicken with Champagne
Honey Mustard Dipping Sauce
Ingredients:
1 lb Chicken Tenders

2 C Buttermilk

1/4 C Franks Hot Sauce

1/2 C Panko Bread Crumbs

1/2 C Wellington Croissant Crackers, crushed

1 tsp Poultry Seasoning

1/2 tsp Paprika

Salt and Pepper to taste
Directions:
In a large bowl, stir together the buttermilk and hot sauce. Add the chicken tenders and let soak in the buttermilk mixture for 30 min to 1 hour at room temperature. In another bowl, stir together the panko, cracker crumbs, poultry seasoning, paprika, and salt and pepper. Preheat the oven to 425 and line a sheet pan with foil. Put a cooling rack on top of the foil and spray with nonstick spray. This will allow heat to get under the chicken and they won't get soggy on the bottom. Take the chicken from the buttermilk mixture and shake off any excess. Dip in the breading, pat the breading onto the chicken so it sticks, then place on the prepared pan. Continue with remaining chicken. Bake at 425 for 25-30 minutes, or until chicken is golden brown and cooked through. Serve with Terrapin Ridge Farms Champagne Garlic Honey Mustard. Recipe developed by Buucks Farms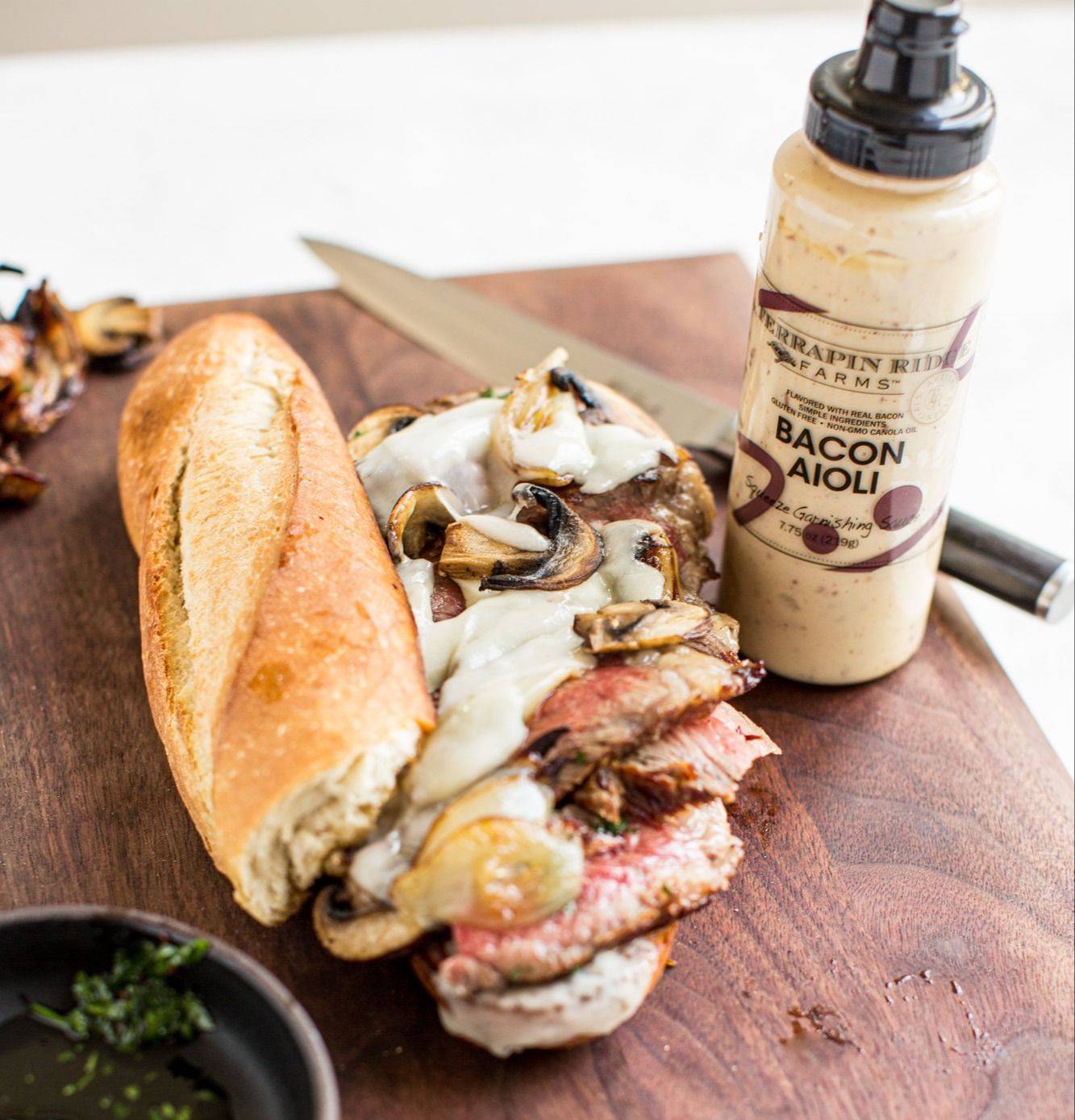 Steak Sandwich with Bacon Aioli
Ingredients:
1 tbsp oil Kosher salt

1 lb steak ribeye

1 large yellow onion

6 baby portobello mushrooms

4 slices provolone cheese

1 baguette

1 bottle of Terrapin Ridge Farms Bacon Aioli for serving
Directions:
Preheat an oiled skillet to high heat until extremely hot. Add 1 tsp kosher salt to the pan. Place steak into the skillet. Cook without moving until the bottom is seared (about 1-2 minutes), flip, do the same again. Continue flipping the steak until the thermometer reads 125 ° for rare. Remove, let rest before slicing. Slice onion into half rings. Using the same skillet, sautee onions and mushrooms until they get golden brown. Remove the onions from the heat and set aside. Slice baguette lengthwise, add slices of steak, onion and topping it off with cheese slices. To melt the cheese place under the broiler for 10-30 seconds at a time. Lastly, drizzle with Terrapin Ridge Farms smoky and creamy Bacon Aioli. Serve hot!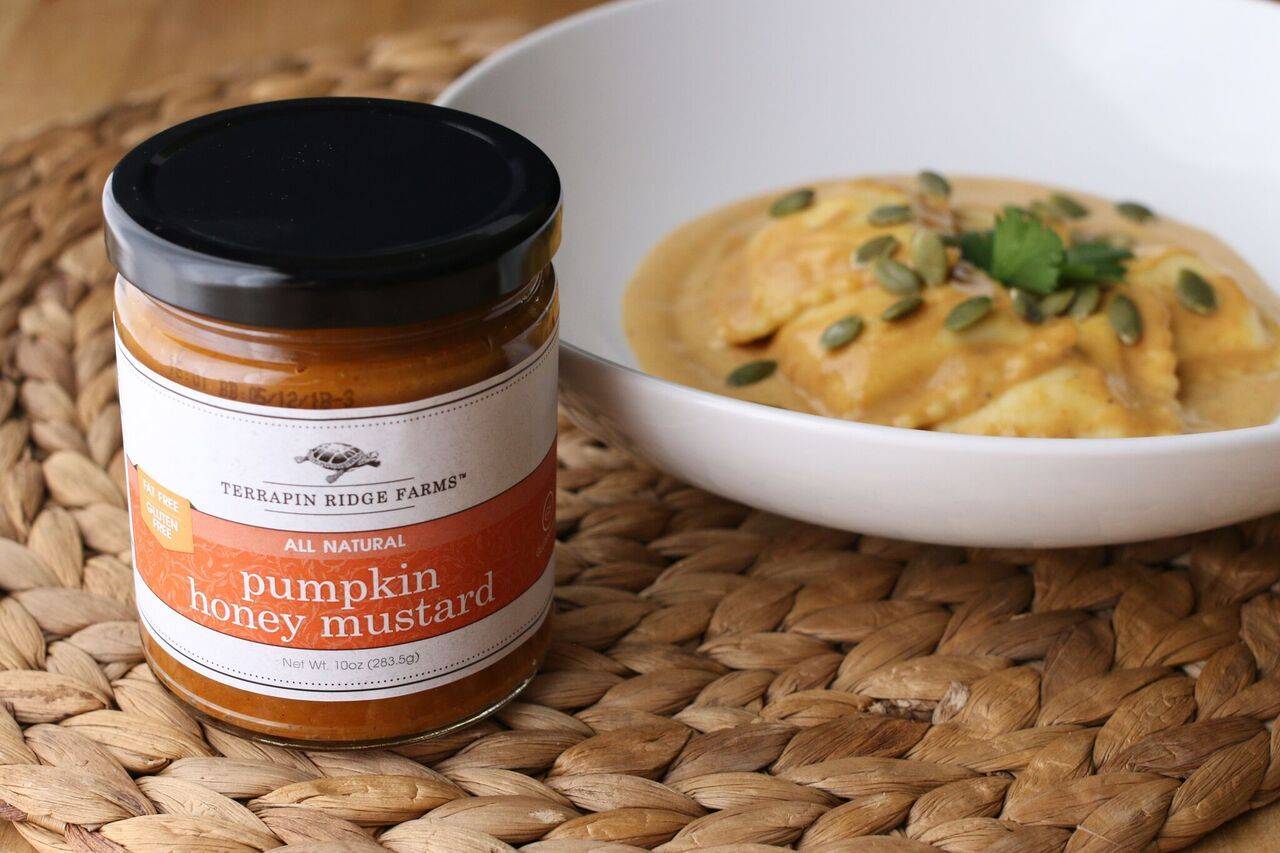 Pumpkin Honey Mustard Swirled Hummus
Ingredients:
Store Bought Hummus Pepitas
Directions:
Spoon out about 2 cups of plain, original hummus in to a serving bowl. Dollop 3 tbsps of the pumpkin honey mustard into the middle of the hummus and swirl evenly into the hummus. Sprinkle pepitas on top for texture and enjoy!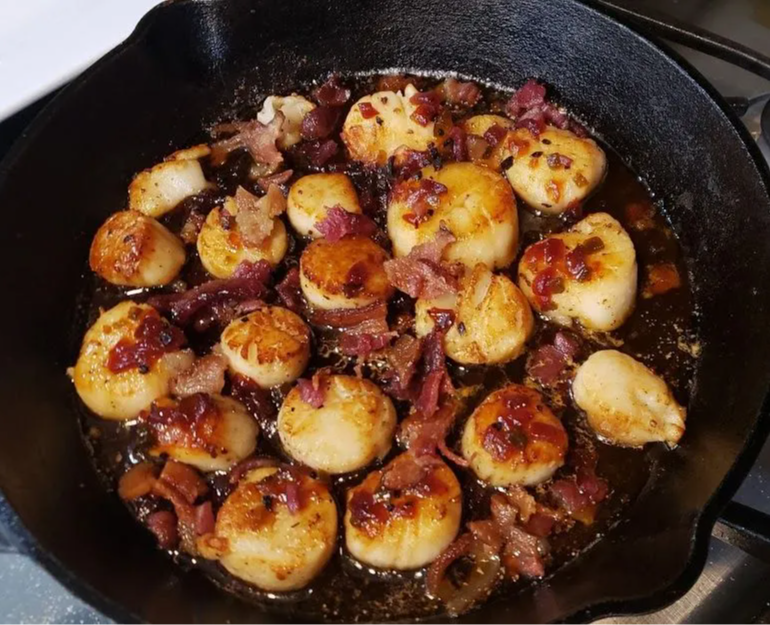 Pan Seared Bacon Jam Scallops
Ingredients:
About 1 pound of fresh scallops

1/4 teaspoon salt

1/4 teaspoon pepper extra virgin olive oil

2 tablespoons water

1 tablespoon butter

4 thick-cut slices of hickory smoked bacon, fried & roughly chopped

2 1/2 tablespoons of finely chopped green onions or chives
Directions:
Arrange scallops on a long piece of paper towel on your counter or chopping board. Lightly press down on scallops to soak up excess water. Coat large cast iron pan with olive oil. Fry or microwave the bacon. Finely chop green onions or chives and set to the side. Arrange the scallops on the skillet. Sprinkle S & P and drizzle EVOO over the top of scallops. Then slow cook them in the oven at 350 degrees for 10 minutes. In a small bowl, mix Hot Pepper Bacon Jam and water. Set aside. Remove cast iron skillet from oven and carefully drain the majority of liquid. Place drained skillet with the scallops on the stove on a medium high heat. Add 1 tbsp. of butter to scallops and drizzle more EVOO. Allow scallops to brown and caramelize about 4 minutes without turning scallops over. Turn down to lowest heat and add Terrapin Ridge Farms Hot Pepper Bacon Jam and water mix over the scallops. Add half of the fried bacon to scallops, slow simmer for a few minutes. Turn off heat and immediately plate the scallops. Spoon extra Hot Pepper Bacon Jam sauce on top of scallops. Add remaining fried bacon for garnish and top with chopped green onion or chives. Serve immediately and enjoy!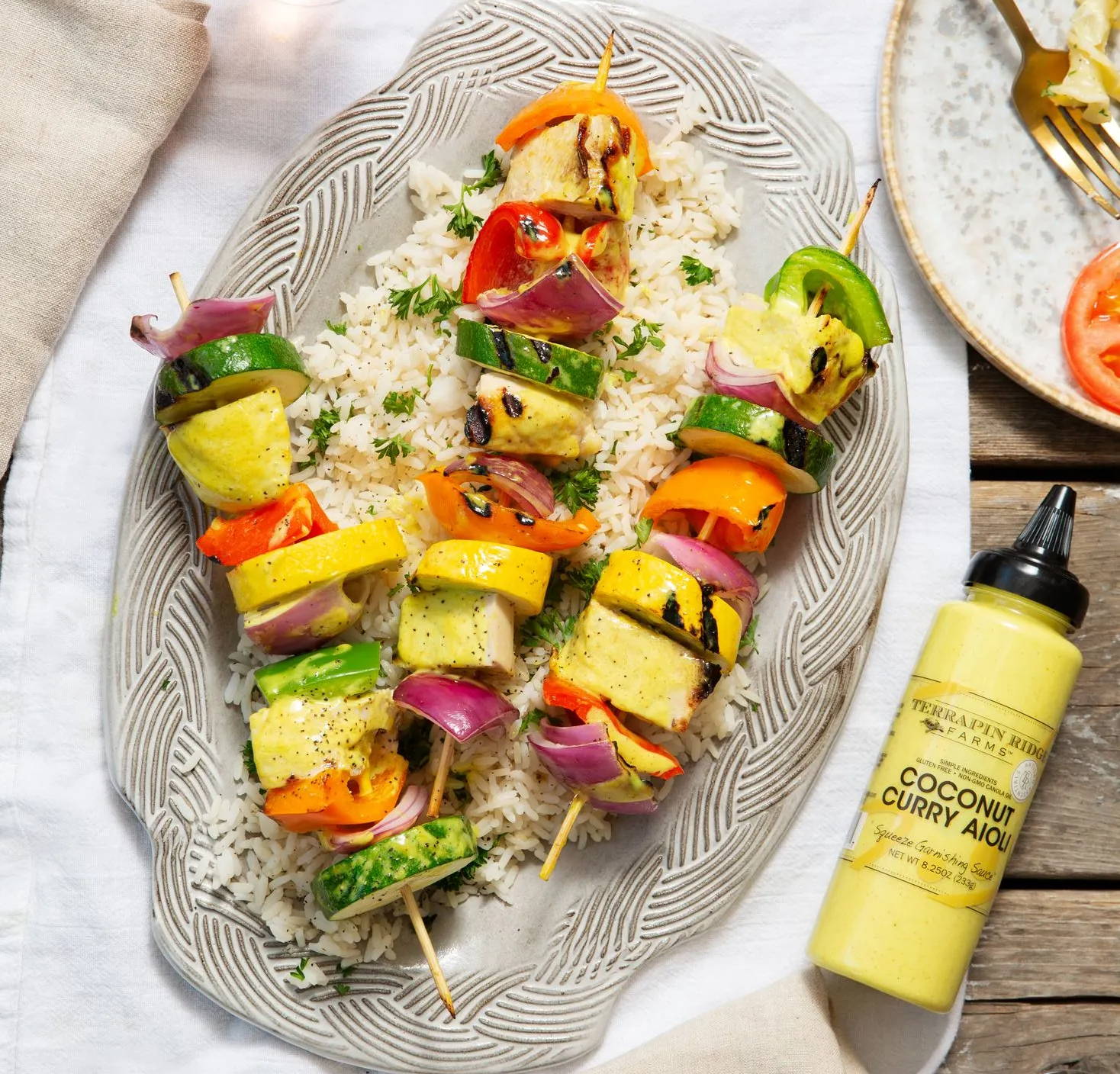 Coconut Curry Veggie Kebabs
Ingredients:
1 pound chicken cubed

Sliced Green Pepper Sliced

Zucchini Sliced Yellow Squash

Sliced Onion Skewers
Directions:
Stab the chicken and veggies onto the skewer. Grill or bake until chicken reaches 165F and until there are grill marks on the vegetables and chicken. If you are unable to grill, broil the kebabs at the end of baking them to add a grilled texture and feel. Drizzle Terrapin Ridge Farms Coconut Curry Aioli on top of kebabs and serve over a bed of rice. Our Coconut Curry Aioli goes great with grilled vegetables and rice. Enjoy!

Apple Maple Bacon Nachos
Ingredients:
5 Apples honey crisp

4 oz blue cheese

1 cup walnut pieces

1/4 cup lemon juice
Directions:
In a sauce pan toast the walnut pieces until slightly brown. Use medium heat. This happens quickly and can burn easily so stay with it tossing the nuts in the pan. About one minute. Set nuts aside. Cut apples in half, remove core then slice into 1/8th inch slices. Place into a shallow bowl and add lemon juice to keep the apples from turning brown. Remove apples from lemon juice. Use a paper towel to remove excess moisture. Arrange on a plate in a spiral pattern. Drizzle Apple Maple Bacon Jam over apples. Top with blue cheese and walnuts. Enjoy.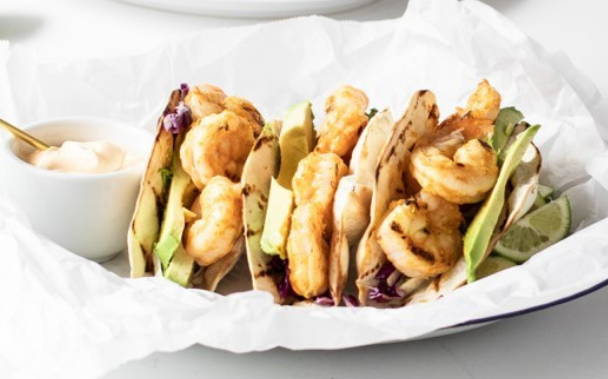 One Pan Mango Habanero Shrimp Tacos
Ingredients:
1-1/2 pounds baby red potatoes, cut into 3/4-inch cubes

1 tablespoon extra virgin olive oil

3/4 teaspoon sea salt, divided 2 medium limes

1/4 cup unsalted butter, melted

1/2 pound fresh asparagus, trimmed

1 pound uncooked shrimp (16-20 per pound), peeled and deveined

2 tablespoons minced fresh cilantro and fresh mango for garnish.
Directions:
Preheat oven to 400°. Place potatoes in a greased sheet pan; drizzle with olive oil. Sprinkle with 1/4 teaspoon sea salt; stir to combine. Bake 30 minutes. Meanwhile, in a large ziplock, add mango habanero jam, melted butter and juice of 2 limes and remaining sea salt to the shrimp. Squish bag gently to cover all shrimps with jam. Remove sheet pan from oven; stir potatoes. Arrange asparagus and marinated shrimp on top of potatoes. Pour any extra marinade or liquid from the ziplock over vegetables and shrimp. Bake until shrimp turn pink and vegetables are tender, about 10 minutes. Sprinkle with cilantro and fresh mango.