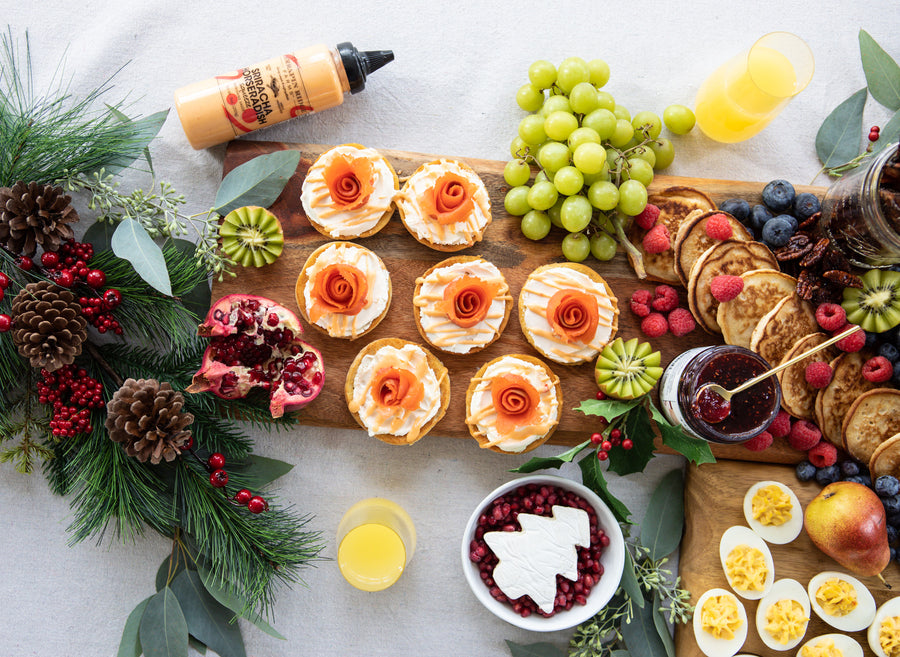 9 Easy to Make Holiday Appetizers
1) Pecan Honey Mustard Feta Board
 Ingredients:
Feta (as much as needed for the size of the board)
¼ cup Cream Cheese for texture
Terrapin Ridge Farms Pecan Honey Mustard
Crushed Pistachios
Directions:
Whip together the feta and cream cheese until smooth. Spread on a serving board. Sprinkle crushed pistachios on top and then drizzle with Terrapin Ridge Farms Pecan Honey Mustard.
2) Strawberry and Fig Creamy Brie Galette with Prosciutto

Ingredients:
1½ cups all-purpose flour, plus more for dusting
⅓ cup roasted unsalted almonds (see Note)
¼ cup fresh rosemary sprigs, plus more for garnish
½ teaspoon kosher salt
½ cup (1 stick) cold unsalted butter, cubed
⅓ cup cold water
1 large egg yolk plus 1 large whole egg, beaten
One 8-ounce wheel brie cheese, cut into ½-inch thick slices
¾ cup Terrapin Ridge Farms' Strawberry Fig Jam
Flaky sea salt and freshly ground black pepper, for sprinkling
3 ounces thinly sliced prosciutto
Directions:

In a food processor, pulse the flour, almonds, rosemary and kosher salt until the almonds are finely ground. Scatter the cubed butter over the dry ingredients and pulse until pea size pieces of butter form.
In a small bowl, whisk the cold water with the egg yolk (reserve the whole egg for brushing). Add the yolk mixture 1 tablespoon at a time, pulsing between additions, until you can pinch the galette dough between your fingers. If needed, add more cold water 1 tablespoon at a time.
Layer two large sheets of plastic wrap on a work surface and dump out the galette dough. Press the dough into a compact disc and wrap tightly in plastic wrap. Refrigerate for at least 2 hours. Preheat the oven to 375°F and line a large rimmed baking sheet with parchment paper. Remove the galette dough from the refrigerator and let it soften slightly. Lightly dust a work surface with flour and then roll out the dough into a rough 12-inch circle, about ⅛-inch thick. Transfer the crust to the prepared baking sheet. Arrange the sliced brie in the center of the galette, leaving a 2-inch border. Dollop the jam on top of the brie. Fold the edges of the dough up over the filling, overlapping in soft folds. Brush the dough with the egg wash and sprinkle with flaky sea salt. Bake the galette at 375°F for 30 to 40 minutes, or until the crust is golden brown and the filling is bubbling. Transfer the baking sheet to a rack and let cool for at least 10 minutes. Before serving, top with folded ribbons of prosciutto and fresh rosemary sprigs and sprinkle with freshly ground black pepper. Slice and enjoy!
PRO TIP If your dough begins to soften while you're working with it, return it to the refrigerator for 10 to 15 minutes to let the butter harden. You want your butter to be cold when it goes into the oven for maximum flaky layers.
NOTE The roasted almonds give the crust a toasty, nutty flavor. If you are using raw almonds for this recipe, then roast them in a 350° oven for about 10 minutes before making your dough. The almonds will not get any more toasty flavor after they are added to the dough. Also, avoid pre-salted almonds so you can control the salt levels of the pastry.
MAKE AHEAD The galette dough can be refrigerated for up to 3 days or stored in the freezer for up to 1 month.
3) Hot Pepper Bacon Jam Checkerboard
Ingredients:
Cream Cheese
Peanuts
Terrapin Ridge Farms Hot Pepper Bacon Jam
Serving Board
Directions:
Start with the cream cheese as it helps prevent any of the Hot Pepper Bacon Jam from loosing shape. With a spreading knife or spoon spread a little square of cream cheese at a corner of the board and continue with more little squares 1 inch away from each on all sides. Fill in the 1 inch squares with Hot Pepper Bacon Jam. Sprinkle with crushed peanuts and serve with crackers or bagel chips.
4) Berry Bacon Bean Dip
Ingredients:
½ jar Terrapin Ridge Farms Hot Pepper Berry Bacon Jam
Shredded Cheddar Cheese
1 Brick of Cream Cheese
Black Beans
Directions:
Pre-heat oven to 350 degrees F. Spread a layer of cream cheese on the bottom of baking dish. Add a layer of Hot Pepper Berry Bacon Jam on top of this. Then add a layer of black beans. Lastly, cover the dish in shredded cheddar cheese. Place in oven until cheese melts. Serve with pita or tortilla chips.
5) Mini Lox Bagel Bites with Sriracha Horseradish Squeeze
Ingredients:
Mini Bagels, savory type (can also use crostinis or crackers)
Salmon Lox, styled in a rosette
Terrapin Ridge Farms Sriracha Horseradish Squeeze Garnishing
Directions:
In the oven or toaster oven, brown the bagels slightly. Let them cool and add a layer of cream cheese. Delicately drizzle Sriracha Horseradish Garnishing Squeeze Sauce on top of the cream cheese. Turn your lox salmon into a decorative rosette and place on top of each mini bagel. To make the rosette slice the salmon pieces lengthwise into 1-inch-thick slices. Lay about 3 slices out in a long line, overlapping each piece. Starting at one end, gently roll the salmon up. This should create a beautiful rose shape!
6) Cranberry Relish Brie Pizza

Ingredients:
1 crescent roll can
1 apple
1 jar Terrapin Ridge Farms Cranberry Relish with Grand Marnier
1/2 round wheel of Brie
Directions:
Roll out crescent roll into a square and cook for 9 minutes. Remove from oven. Spread ¾ jar to 1 whole jar of cranberry relish with Grand Marnier over the dough. Slice 1 apple very thin, place on top of relish. Cut ½ round of brie into 1-inch pieces and place on top. Reheat in oven for 4 – 5 minutes until cheese melts, serve!
7) Tart Cherry, Apple, and Rosemary Meatballs in the crockpot
Ingredients:
1 bag store bought frozen meatballs (you can make your own, but store bought is fine)
1 cup per pound of meatballs of Terrapin Ridge Farms Tart Cherry, Apple & Rosemary Glaze
Toothpicks for serving
Directions:
Place meatballs and Terrapin Ridge Farms Tart Cherry, Apple & Rosemary Glaze into a crockpot. If meatballs are frozen, cook low and slow until they are warmed. If meatballs are thawed cook on high to med-high heat until meatballs are warm. Add additional sauce at the end if needed. Serve with toothpicks. The aroma is like Christmas in a crockpot! Enjoy!
8) Hatch Chile Sausage Dip
Ingredients:
1 lb breakfast sausage browned and drained
1.5 bricks of cream cheese
1 jar of Terrapin Ridge Farms Hatch Chile Cream Cheese
Directions:
Mix Hatch Chile Cream Cheese in with the drained sausage in the skillet. Cook until the Hatch Chile Cream Cheese is heated, stirring occasionally. You may add this to a crockpot to keep warm while serving! Serve this dip as an appetizer with pita bread, tortilla chips, veggies, or crostinis.

9) Apple and Horseradish Cheeseball

Ingredients:
½ jar Terrapin Ridge Farms Apple Horseradish Jam
16 oz. cream cheese, softened
2 cups Monterey Jack, finely shredded and divided
Directions:

Ingredients:
½ jar Terrapin Ridge Farms Apple Horseradish Jam
16 oz. cream cheese, softened
2 cups Monterey Jack, finely shredded and divided
Directions:
Combine cream cheese, jam and 1 cup of the shredded cheese. Shape into a ball. Roll in remaining cheese, cover and refrigerate until serving. We like to add about a tablespoon of Apple and Horseradish Jam to the top of the cheeseball before serving, if you have extra in your jar

Questions about this recipe?
Email Us